The most fashionable shoe models
for the spring/summer season
The discussion about shoes gained momentum in fashion a few seasons ago, when Balenciaga first presented the 'Triple S' model, reaching a wider audience with high fashion and making everyday sneakers a real object of desire, not only among professional athletes. There is no doubt that shoes can transform any look. The perception of dress code and rules on how to style specific models has been changing – comfortable sneakers worn with formal office outfits are no longer surprising, and the American college-inspired future-prep trend has shown that a hoodie can even be paired with moccasins. What shoes will we be wearing this spring/summer season? Stay one step ahead and see some of our most stylish suggestions.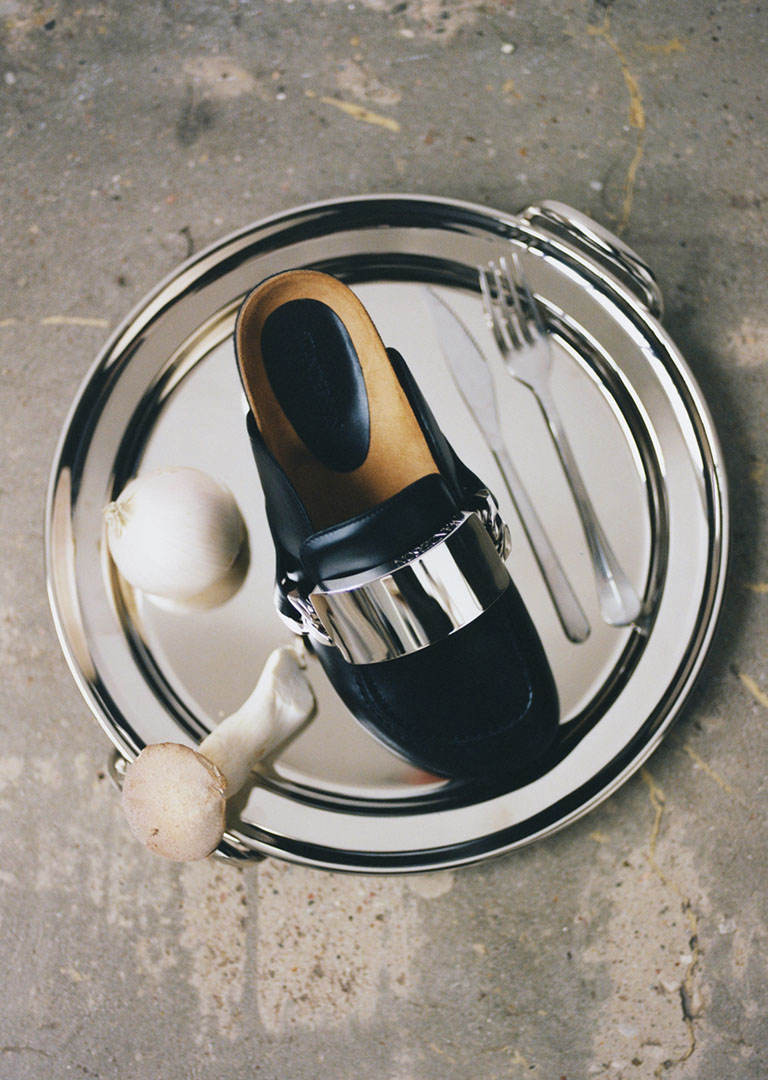 Cut ties with tying
After many seasons of sneakers reigning supreme, comfort and convenience are entering a whole new level. Catwalks are full of shoe models that you simply slip on your feet and... go! This is a trend that has been popularized by TikTok users, as well as by the casual, even homely styles of celebrities, who show that – in addition to glamorous looks for evening events – they like to pop to the shop around the corner or go for walk with the dog like everyone else... that is in Crocs! The spring/summer 2023 collections were also dominated by slides.

Seemingly inconspicuous slides dazzled with the unpredictability of form, and designers outdid each other to see which model would become the summer styling hit of the world's most devoted fashion lovers. Balenciaga's show presented designs for men that included glamorous clogs – lacquered and shiny, and even... ballet flats! Birkenstock has been embarking on some interesting collaborations with fashion houses, while from its inception it's been focused mainly on foot health and orthopedic solutions.
Back to the future
The future is closer than you might think, virtually at your fingertips or... feet! With technology developing ever faster, the virtual world is even more readily meshed with the real world, resulting in shoe models inspired by the future. Silver is the color of the season. Futuristic, iconic shapes with unusual soles are designed by Balmain, and Givenchy recently presented its interpretation of the trend. Brands that previously focused primarily on overcoming technical challenges, such as providing athletes with improved performance, now also have to compete – or collaborate (!) – with the big names of the fashion world, as comfortable and practical sneakers have become an everyday choice among trendsetters too.

3D printing is becoming an increasingly common solution in the industry. It's worth noting the growing popularity of shoes from RBRSL, which uses a special technology in the production of its soles, which involves pouring a transparent liquid into a patented mould that is next catalyzed at a high temperature. Their innovative soles are distinguished by their light weight and flexibility, and the brand's motto is: "Every step that allows man to move beyond a frontier is a step towards the future."
New forms of elegance
Fashion likes outside-the-box solutions. The post-pandemic return of social events has resulted in attempts to reinterpret what elegance is. Comfort is again becoming a priority. The topic of hybrid work debated ever more widely has prompted designers to look for similar compromises in fashion – between the formal and the comfortable casual. Shoes have to perform in a variety of conditions, from morning to evening, for business meetings and lunch with friends. In the spring/summer collections, we saw classic derby shoes and loafers in novel colors and surprising prints, such as those from Versace. Slides and sandals crafted in leather from brands such as Saint Laurent took on a more formal feel.

Look out for shoes with the iconic 'Tabi' toe from the fashion house Maison Margiela, known for their original solutions. In line with the principle that rules are made to be broken – dare to offset your formal look with an extraordinary shoe model.
Ready for anything
In the age of microtrends, the techwear gorpcore style is one of the most pronounced and long-lasting. This trend owes its success primarily to its functionality and practicality. The influence of outdoor fashion can be seen everywhere – on the Internet, on the catwalks and, above all, on the streets. Boots packed with technology are becoming more and more urban in design and captivate trendsetters the world over. Following a fruitful collaboration with Vibram, the Spanish footwear brand Veja has created its own 'Fritz Roy' trekking shoe model. Salomon, a brand iconic among mountaineering enthusiasts, is increasingly keen to collaborate with the high fashion industry, and the eagerly awaited launches of the latest models in stunning colorways are in high demand.

Moncler – the undisputed pioneer of winter technology for special tasks – has for many seasons been engaged in high-profile collaborations with big names in fashion as part of their 'Genius' line, among others – with JW Anderson. In uncertain times, survival style provides a sense of security, and the reliable aesthetic is also an inspiration to top designers.
Aim higher
This season, we're aiming high! Add some style to your silhouette and... a few extra inches as well. The spring/summer collections of the world's designers are all about platforms. Slides and sporty sneakers rise to the occasion. Versace has turned the platform soles of its latest sneakers into an undoubted asset by adorning them with their 'house codes', i.e. internationally recognizable patterns strongly associated with the brand. The iconic 'Larry' from Alexander McQueen impresses with the multitude of available versions, while Dsquared2 dips its toe in the water with the new 'Berlin' model inspired by one of Europe's most fashionable capitals. At the Dries Van Noten show, heeled cowboy boots took center stage – in an unobvious combination with sports shorts.

Fashion is getting bolder when it comes to blurring the boundaries between what had previously been considered unmistakably feminine or masculine, so it was no surprise that – alongside skirts, crop tops and lace – high-heels were also part of the men's collections of world designers.